Different Places to Visit
Gnomesville
Ferguson Valley-Lot 4059 Wellington Mill Road, Wellington Mill
What a fascinating place to visit. It is mystical and enchanting with a hint of quirk. You will walk through a forest of thousands of gnomes, all placed by visiting folk.
Be sure to take your own gnome with your names written on them to place where you want and to add to the extended family.
Donnybrook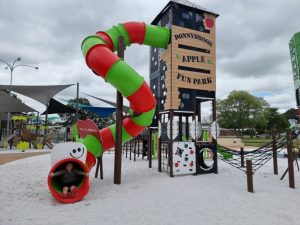 'Appleville'- A town that is adorned by apples, with apple street lights and apple stalls leading into the town selling apples straight from the orchard. And the Donnybrook Apple Fun Park playground in the core of the town is truly amazing. It is the biggest free playground in Australia and will entertain the kids for a long time so grab your lunch from the bakery and settle in.
Cowaramup
You can't help but smile when driving up to Cowaramup. They have embraced the cows with colourful statues of cows and cow references throughout the town, giving it a sense of joy and fun. Stop and enjoy everything cowish about this quaint little town.
Waroona
A town with a personality that has fun with hay bales, art galleries and street art. Follow the Waroona Art Trail and enjoy the large, subtle, colourful and quirky art around town.
Golden Valley Tree Park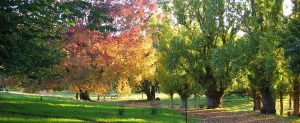 Balingup- Just off South Western Hwy
What a beautiful place to visit, especially in Autumn. Golden Valley Tree Park is a 60ha landscaped park set in the picturesque hills of Balingup. The heritage listed site has a collection of over 3,000 trees with over 500 different species started over 100 years ago. It is now the largest arboretum in WA and has the Bibbulmun Track walk passing through it.
Denmark Thrills
380 Mt Shadforth rd, Shadforth
This is your chance to ride the worlds longest globe orb ball downhill track.
Horsepower Highway
If you're up for a drive or happen to be 'passing along' the Broomehill-Gnowangerup Road and through to the Stirling Range National Park along the Formby South then you will be pleasantly entertained along the route by an initiative called Horsepower Highway. You will see many 'retired' tractors adorned in different creative styles and artistic flair. A fantastic way to make a long drive enjoyable.
 Tin Heads Geraldton
This very special collection of over 7000 decorative tins has been put together by dedicated collectors Margaret and Robert – affectionately called the Tin Heads of Waggrakine. The collection is open to the public every second Sunday of the month or by appointment.
Tin Horse Highway
A popular, entertaining drive trail in the Wheatbelt, The Tin Horse Highway, is a unique open-air gallery which is full of home-made tin horses made out of 44 gallon drums and are all unique.  You will find them predominantly east of Kulin on the 'Tin Horse Highway' en route to the Jilakin Race track and on the road west of Kulin towards Corrigin.
Eagles Heritage Raptor Wildlife Centre
Eagles Heritage is one of Australia's largest wildlife centre's dedicated to the care and rehabilitation of injured, orphaned or displaced birds of prey.
A visit to Eagles Heritage, with their twice daily Birds of Prey Encounters, will provide you with the unique opportunity to meet and interact with birds of prey such as eagles, hawks, falcons and owls.
Take an easy 1km hike down one of the native forest trails to explore and enjoy the bush-land sanctuary, which is home to over 40 resident birds of prey. Not all birds are able to return to the wild due to permanent injuries, so Eagles Heritage provides a safe home and long-term care.
Chasing the big things in WA!
THE BIG BANANA– Carvarvon
Tucked behind a fence on the main road is Carnarvon's big banana. A salute to the local banana industry.
THE BIG RAM- Wagin
'Bart' the ram photobombs thousand of tourists Insta shots. He is 13m long and 9m high and is proud of the regions wool industry.
THE BIG PRAWN- Exmouth
When in Exmouth be sure to say G'day to the 7m high cooked Western King Prawn located on Murat st, an ode to the strong prawning industry in the region..
THE BIG ORANGE– Harvey
The Big Orange is located at the Harvey River Estate Cellar Door and is perched on a 10m tower that you can climb as you 'squeeze' up the ladder.
THE BIG CROCODILE- Wyndham
As you drive into Wyndham you'll be greeted by this 20m long, 3m high salty croc that was sculpted in 1987 by a group of local students and volunteers.
THE BIG CAMERA- Meckering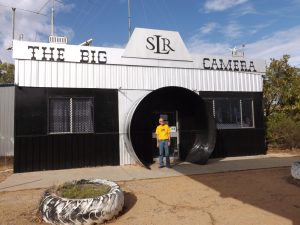 This is the only museum, totally dedicated to photography, open to the public anywhere in Australia. View over 3,000 fully operational cameras and more, ageing from before cameras were even invented to modern day cameras.
THE BIG LEEUWIN WAY WHALE– Eucla
You'll find this big cutie in the Eucla Roadhouse carpark. She measures in at 10m long, 3m high and 3m wide.
THE BIG WHEELBARROW– Port Hedland
The big wheelbarrow is parked in the Wedgefield industrial area. The wheelbarrow is a nod to the digging of the land and the Black Rocks Stakes wheelbarrow race that used to run there.
THE BIG LOLLIPOP– Ravensthorpe
Sweet! The Big Lollipop stands next to the candy coloured Yummylicious Candy Shack in Ravensthorpe and was created by the candy store to attract tourists after the local nickel mine closed down.
THE BIG PERIODIC TABLE– Joondalup
This holds the record of the worlds largest periodic table scaled to 662m2. You'll find it adorning the facade of Building 19 in the Science Department at Edith Cowan University in Joondalup. It was the brainstorm of Professor Steven Chapman.
BIG BOBTAIL LIZARD– Kalamunda
You'll find 'Bob' on Stirk Street in the Perth hills. The giant lizard sculpture measures 9m long x 1.3 m wide.
Other big things about WA!
As well as being the worlds largest producer of gold out of Kalgoorlie region, Diamonds out of the Argyle Mine and Pearls out of Broome, WA also holds the title of other big things in the world.
PERTH
The most isolated city in the world and the only city in the world where you can land your light plane in the CBD (The Esplanade)
KINGS PARK- (Noongar- Kaarta Gar-up)- Perth CBD
One of the world's largest and most beautiful inner city parks that is rich in Aboriginal culture and European history. It spans 400 ha's (990-acres) and is perched high on Mount Eliza overlooking the CBD, Swan River and Darling Ranges
BUSSELTON JETTY
The longest timber jetty in the southern hemisphere (1.8km long)
NULLABOR LINKS GOLF COURSE
The worlds longest golf course. Starts in Kalgoorlie in WA and each of the 18 holes starts in towns along the route to Ceduna in SA, 7 holes in WA and 9 in SA. It's 1,365km long.
MOUNT AUGUSTUS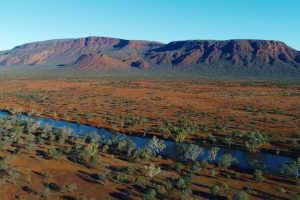 The worlds biggest rock, twice the size of Uluru, Wajarri Aboriginal name is "Burringarrah" after a dreamtime figure, a young boy who was speared and turned into stone. It has been a sacred site for thousands of years. It stands 715m's high, is 8km long, 5km's wide and is a 54km loop drive around it.
ESPERANCE STONEHENGE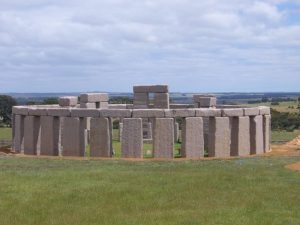 Esperance Stonehenge is a full-sized replica of Stonehenge built in a farm paddock. It is designed to look like the original, intact Stonehenge from c. 2000BC. It was built from 137 locally quarried stones and is aligned to the summer and winter solstices.
LAKE BALLARD SCULPTURES– Menzies
One of the worlds largest outdoor galleries. 'Inside Australia' consists of 51 sculptures created by British Artist Antony Gormley and are placed all over the effective backdrop of Lake Ballard.
WORLD's TALLEST BIN– Kalgoorlie
A big bin sounds convenient but not when it's 8m tall. Try popping your cans in that. But it's still worth an Insta shot with it for sure. Erected in 1980 for the Tidy Towns entry, it still remains- loved by some locals, loathed by others.
WOLFE CREEK METEORITE CRATER– East Kimberley Region
This crater is estimated to have impacted around 300,000 years ago. It is the second largest meteorite crater in the world at 850m wide and 50m deep.
TOWER ZERO– just out of Exmouth
One of the largest towers in the Southern Hemisphere standing at 387m high as part of the Harold E Holt Naval Communications Stations playing an important role communicating messages to the US during WWII.
Things happening in your area
Your local councils put on Events and Recreational activities throughout the year such as skateboarding lessons, cultural walks, volunteering, concerts, markets, sport events and more.
Here is the WA Council Directory for you to select your council. Then go on to their Events page to see what fun things they have coming up.